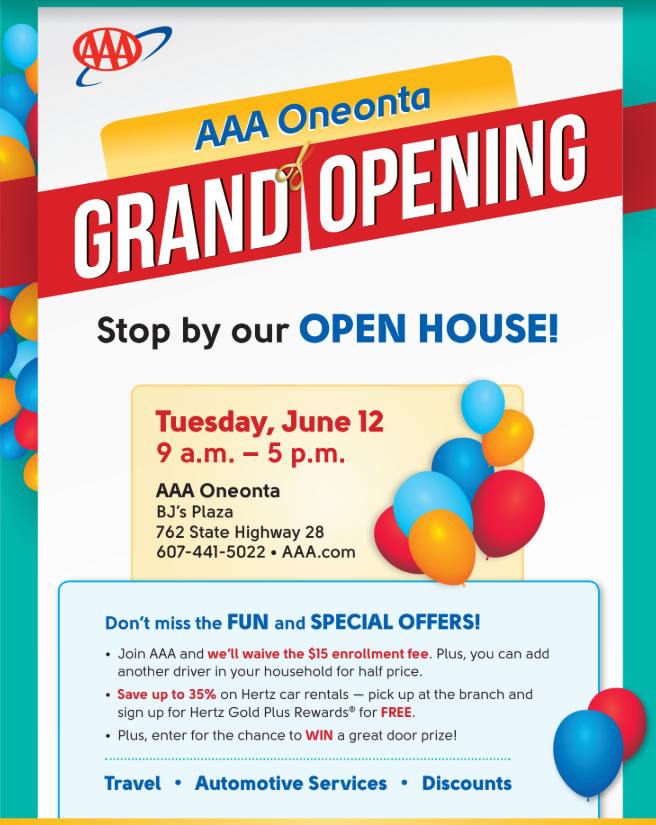 Dear Members,
We invite you to join us for AAA Oneonta Open House, Tuesday, June 12, 2018 from 9:00a.m.-5:00p.m. at the BJ's Plaza 762 State Highway 28, Oneonta. The Otsego Chamber will offer the Ribbon Cutting Ceremony at 10:00a.m. See attached flier for more details of fun and special offers.
Burr Truck To Host Ribbon Cutting For New Oneonta Location
50-year-old family-owned dealership based in Vestal will host ribbon cutting of its new parts store in Oneonta
Oneonta, N.Y. – June 4, 2018 – After a full renovation of the recently acquired facility located at 6180 Highway Route 23 in Oneonta, Burr Truck is excited to announce that it will be hosting a grand opening event and ribbon cutting on Thursday June 14 from 12 – 2 p.m.  The ribbon cutting will be conducted by Burr Truck ownership, the Delaware County Chamber of Commerce and the Otsego County Chamber of Commerce.  Political, community and business leaders will be on hand for the event, which will include an honorary flag raising ceremony in celebration of Flag Day.  The landmark large flag pole and American flag will be raised by a local Boy Scout troop as part of the grand opening and ribbon cutting event.  A barbeque will immediately follow the ceremony which all invited guests as well as the media will attend.
"The Burr family has long been committed to providing quality customer service, and we saw a need, and an opportunity, in the underserved Oneonta area," Chuck Burr, President of Burr Truck, said. "This new local option will increase accessibility and convenience for our Delaware and Otsego County customers, and overall, make the experience of buying parts as well as maintaining trucks and trailers easier and more enjoyable for clientele. We look forward to contributing to the local economy as a valued member of the Oneonta community and providing additional opportunities for employment here in the region."
Burr Truck & Trailer Sales has a fifty-year history of growth and success in the Southern Tier. Founded by Charlie, Melvin and Clark Burr in 1967, Burr Truck originally operated as a dealer for Diamond Reo and Oshkosh trucks, Strick trailers and Cummins and Detroit diesel engines.
Ten years later, the Burr family decided to add Volvo trucks to their inventory, which were still new to the American market. Today, Burr Truck is among the oldest family-owned Volvo Truck dealerships in the United States. While the Volvo brand is a company staple, Burr Truck also offers many other high-quality products.
Burr Truck has officially opened the doors on its new 5,000 square foot facility at 6180 Highway Route 23 in Oneonta. You won't be able to miss it – the towering and beloved American flag that's a staple of Oneonta soars proudly over the property of the new Burr Truck location. (The massive flag waved for many years above Flagpole Nissan on the Southside of Oneonta and was planted at this address on Route 23 in 2015.) The new location is a parts shop, and will offer all makes of truck parts, hydraulic hoses and fittings, and snowplow and sander parts.  
This comes in addition to the company's 20,000 square foot facility in Vestal.
The company is thrilled to provide a welcomed boost to the Otsego County economy. Perhaps, the most exciting aspect of this expansion is the new local jobs it will create. Once again, Burr Truck is proving its appreciation and commitment to the community it serves by adding quality career opportunities. The company, once operated by just a handful of workers, today employs 35 people. President Chuck Burr says two of his original employees stayed with the company more than 40 years – which demonstrates that Burr Truck values and appreciates the contributions and dedication of its employees. The Burr family is excited to give back to the community that has helped them achieve long-standing success by adding more local talent to its team and providing new employees with exceptional training that will benefit both the company and its customers. Interested applicants should submit their resumes to [email protected].  To learn more about the company and career opportunities, please visit www.burrtruck.com.
GRAVES OF UPSTATE NEW WORK, REVISITED ON JUNE 24
On Sunday June 24 at 2:00 PM, the Greater Oneonta Historical Society hosts Chuck D'Imperio, who will speak about and sign his latest book at the History Center, 183 Main Street.  Graves of Upstate New York: A Guide to 100 Notable Resting Places is a revised and expanded version of D'Imperio's 2007 Great Graves. Copies of all D'Imperio's books are available for sale at the History Center. For more information, contact (607) 432-0960 or [email protected].
Hartwick College's Budding Grant Writers Helping Local Non-profits
ONEONTA, NY— Oneonta-area non-profit organizations are getting an assist from students in a Hartwick College grant writing class.
Students in the service-learning course "Introduction to Grant Writing" partner with a local organization with the goal of developing and submitting a grant proposal on their behalf.
Class members acquire a deep understanding of their non-profit's mission, strengths and needs, which then enables them to research appropriate funding sources.
This year the course had six students, each of whom were matched with local non-profits: Girls on the Run, the EDD Memorial Fund, Valleyview Elementary School, the Oneonta Fire Department, and the College's own Yager Museum of Art & Culture.
Global Education and Service Learning Advisor Carolyn Cooper teaches the class.
"Grant- and proposal-writing skills are highly sought after by employers, and students who gain experience with this unique kind of writing will obtain highly marketable skills and experiences," Cooper said. "These skills align with Hartwick's mission of melding the liberal arts with experiential learning, as students develop actual proposals and engage with actual organizations."
She vets each organization to determine if it is a good fit for the class, and pre-screens the students, who must provide a writing sample before being accepted.
The course is divided into four sections: getting to know the organization; identifying sponsors and funding sources; designing, writing, and revising the proposal; and responding to the funder's decision. The subject matter is imparted by assigned reading and guest lectures from professionals in the field. Progress is gauged at each stage by feedback provided by both the partner organization and Cooper.
Toward the end of the course, class members present their work at the annual Student Showcase, during which members of the Hartwick community sample work done by the students during a day-long, campus-wide exhibition.
Last semester, grant requests ranged in size from $500 to $12,000 and were aimed at addressing diverse needs, from the mundane to the elaborate. The partners needed everything from snacks for youth program participants to alternative seating for a 4th grade classroom to a specialized washing machine that removes carcinogens from fabric.
Cooper has also welcomed one member of the community to audit the class each semester. Last year, Oneonta Fire Department Assistant Fire Chief Jim Maloney earned his organization a $5,785 grant to purchase particulate-filtering hoods for his firefighters. This year's auditor, Hartwick College Development Assistant Joanna Cacciola, helped earn a $5,000 grant for the Community Arts Network of Oneonta, for which she is also board secretary.
Maloney became a partner for the class this year, working with a student to develop and submit a grant for $8,400 to secure a commercial washing machine for firefighting gear.
"Introduction to Grant Writing" is offered as an English class, not a business class. That is by design.
"Developing grants requires a specific style of writing," Cooper reasons. "Writing is an argument, and every grant is essentially an argument."
Students also hone their research, professional, and interpersonal skills, she adds.
Professor of English and Department Chair Susan Navarette sees the class as the "ideal blend of academic and theoretical, skills training and traditional classroom experience, to address an actual community-based interest that benefits from the strategic application of those skills.
"Securing funds to support a group's articulated need is an unrivaled experience for undergraduates," she added. "Fortunately, we are nimble enough at Hartwick to act on promising initiatives and emerging trends, and have multiple interested parties here that helped develop a course such as this – to the benefit of not only our students but their clients."
Since the class is taught in the spring, the long grant-selection cycle generally precludes students from finding out if they were successful before leaving for the summer. Cooper, however, monitors the process after the semester ends and provides updates to students and partners.
Soon Cooper will know if this year's batch of grant writers achieved its goal of securing funding for its partners.
Regardless of funding outcomes, the students have created an outline and/or documents that these non-profits can use in future grant-seeking efforts. The students will have also gained real life experience while honing skills in a different, albeit important, style of writing.
Next year a new set of grant writers will be at it again, helping local non-profits in their efforts to obtain critical financing. They will also learn what this year's class noted in its Showcase presentation, "The pressure of a community project is real: we don't want to let our partners down!"
For more information on the "Introduction to Grant Writing" class, contact Cooper at [email protected] or (607) 431-4422
Wednesday, June 27, 2018 Chamber Networking Luncheon
Chamber Friends-Don't miss this great way to promote your business at one of our most popular events. Networking luncheons provide a great opportunity for area business people to promote their business to other professionals interested in what they have to offer or know someone who is. In a roundtable format, business representatives will have 2-4 minutes to promote their own business and distribute promotional and marketing materials. Following this structured networking, guests will be given time to network with the many other professionals in attendance and meet the Oneonta Outlaws. To make a reservation, please contact, Member Services Administrator, Karen Laing at [email protected] or call (607) 267-4010. Cost for Members is $20 and non-members is $30. Information attached.