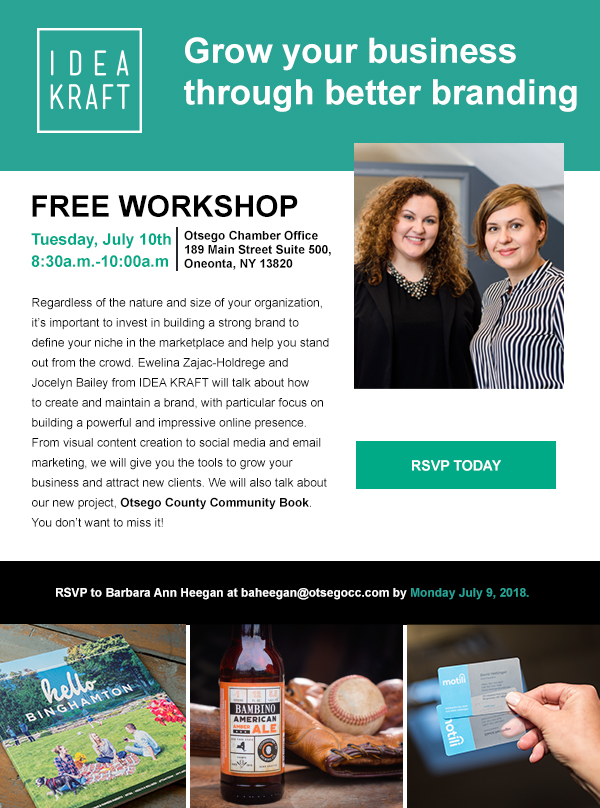 Dear Members,
A friendly reminder of the FREE Workshop tomorrow morning, Tuesday, July 10, 2018 at 8:30a.m.-10:00a.m. Regardless of the nature and size of your organization, it's important to invest in building a strong brand to define your niche in the marketplace and help you stand out from the crowd. Ewelina Zajac-Holdrege and Jocelyn Bailey from IDEA KRAFT will talk about how to create and maintain a brand, with focus on building a powerful and impressive online presence. From visual content creation to social media and email marketing, we will give you the tools to grow your business and attract new clients. We will also talk about our new project, The Best of Otsego County Community Book. You don't want to miss it! Please RSVP to Barbara Ann Heegan, President & CEO by Monday July 9, 2018 [email protected] or call (607) 267-4010 Ext 103. Members are welcomed to register the morning of the program.
Autumn Café to host Grand Re-Opening, Chamber to offer Ribbon Cutting Thursday, July 12 at 5:30p.m.-NEW BEGINNINGS:
In 2017 Wayne and Rebecca Carrington believed that they could ensure the Autumn's presence on Main Street for years to come… In January 2018 they reopened with a menu centered on traditional favorites and some new forward leaning offerings.
Grand Re-Opening & RIBBON CUTTING for Autumn Cafe:
Thursday, July 12th our community is invited to celebrate a grand re-opening that features a new menu building on the eclectic roots of the café's and a reimagined deck and raw bar.
Enjoy new ENTREES like the Mill Hollow Maple Glazed Atlantic Salmon, Roasted Garlic and Turmeric Seared Cauliflower Steak with Summer Veggies or the Café Summer Carbonara with local mushrooms, broccoli rabe and roasted tomato.
Be the first to try our new fresh and lite offering of TARTINES made on house – baked café bread or the new Sweet Tea Braised Shaved Pork and Hot Rice POWER BOWL.
Autumn Cafe will of course be celebrating on the deck at the new stocked ice bar with frozen daiquiris and margaritas as well as fresh seafood!
Also enjoy Tyler Henderson jazz pianist!
Please RSVP to Karen Laing, Member Services Administrator by this Wednesday at (607) 267-4010 or e-mail at [email protected].