Chamber E-NEWS 3/29/2018
Highlights in this edition:
Join us for Bargain Baby Ribbon Cutting Thursday, March 29, 2018 4-5pm
Greater Oneonta Historical Society updates
Upcoming Events at The Otesaga Hotel
Leatherstocking Council Annual Program Calendar (attached order form)
2018 Job Fair Saturday, April 14, 2018 at FoxCare Center (Attached Registration
Join us for Bargain Baby Ribbon Cutting Thursday, March 29, 2018 4-5pm
Bargain Baby
We are HOPPY to announce our official ribbon cutting ceremony Thursday, March 29th from 4-5pm. Come celebrate the hatching and growth of Bargain Baby at 152-154 Main Street, Oneonta! There will be light refreshments, and a mini Easter egg hunt for the little ones! Stop in and grab your last-minute Easter outfit/gift all while celebrating and experiencing EGGCELLENT bargains!
ONEONTA HISTORY CENTER EXTENDS HOURS
The Greater Oneonta Historical Society (GOHS)  has announced that the Oneonta History Center's hours have been extended. The History Center at 183 Main Street is now open 12:00 noon to 4:00 PM Monday through Friday and from 10:00 AM to 4:00 PM on Saturday, as well as for special events or by prior arrangement. GOHS executive director Bob Brzozowski states that "We are pleased to be able to increase the History Center's hours. Now more residents and visitors may learn about the rich history of the town and city of Oneonta through our exhibitions, displays, and programs, as well as to purchase unique local history items in our shop."
For more information, contact [email protected] or (607) 432-0960, or visit www.OneontaHistory.org.
The Greater Oneonta Historical Society (GOHS)  is sponsoring a full-day trip to Hammondsport and Corning on Tuesday May 15 in a Hale Transportation bus.  This trip will give participants the opportunity to tour both the Curtiss Museum in Hammondsport and the Corning Museum of Glass in Corning.
The Curtiss Museum features displays of early aircraft, motorcycles, and engines, many of which were manufactured in the Hammondsport factory of aviation pioneer Glenn H. Curtiss.  Also on display are Curtiss family art and turn of the century furnishings and memorabilia.
The Corning Museum of Glass, where participants will have a two-hour guided tour,  is well-known for its comprehensive glass collection representing 35 centuries of glass from around the world.  One of the special exhibitions in May will be "Curious & Curiouser: Surprising Finds from the Rakow Library". The Juliette K. & Leonard S. Rakow Research Library of the Corning Museum of Glass is the world's foremost library on the art and history of glass and glass making.
Registration forms are available at www.OneontaHistory.org, at GOHS' Facebook page, and at the Oneonta History Center, 183 Main Street.  The cost of the trip is $90.00 and the registration deadline is April 24.  Part of the registration fee will be a donation to GOHS. For more information, call Bill or Marge Pietraface at (607) 432-1385.
Upcoming Events at The Otesaga Hotel
4/6: DJ LaValley Sound
DJ Mark LaValley will play all your favorite tunes to make your evening a memorable one. Join him in the Hawkeye from 9 pm until midnight.
4/7, 4/14: DJ John Thompson
DJ John Thompson began performing professionally as a drummer and guitarist at the early age of thirteen. As a musician, he takes great pride in the various genres and bands he has played with.  Through his craft as a musician, he's adapted this knowledge to being a skilled and entertaining DJ. Many guests have said DJ John Thompson recognizes and finds the songs that are "just right" for the moment and "keeps the dance floor fun and alive."  Playing songs from the big band era through early rock 'n roll, country, Latin, Motown, and disco to the latest and hottest dance songs, John always welcomes and encourages requests. Join him tonight from 9 pm to 1 am in the Hawkeye.
4/21: DJ Raphael
DJ Raphael is a dynamic and creatively versatile entertainer whose musical tastes are wide and varied. Focusing on most things soulful, Raphael plays music with instrumental and vocal class dipping into different genres and vibes.  Join him in the Hawkeye from 9 pm – 1 am.
Starting 4/29, and continuing throughout the season: Sunday Brunch
Enjoy a bountiful brunch in the elegant setting of Glimmerglass overlooking Lake Otsego.  Featuring omelets made to order, carving station, waffles and classic breakfast foods, salads station, delectable desserts, kid-friendly classics, and much more.  $34.95 per person ($18.00 for children 3-12 years old).  Served 11:30 am to 2:00 pm.  Reservations required.  Call 607-544-2519 for information and reservations.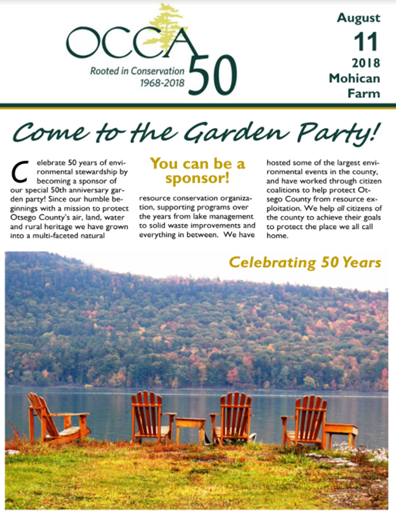 Come to the Garden Party!  Celebrate 50 years of environmental stewardship by
becoming a sponsor of our special 50th anniversary garden party! Since our humble
beginnings with a mission to protect Otsego County's air, land, water and rural heritage
we have grown into a multi-faceted natural resource conservation organization, supporting
programs over the years from lake management to solid waste improvements and everything in between. We have hosted some of the largest environmental events in the county, and have worked through citizen coalitions to help protect Otsego County from resource exploitation. We help all citizens of the county to achieve their goals to protect the place we all call home.  You can be a sponsor!
Full details can be found at https://otsegocc.com/wp-content/uploads/2018/03/Sponsorship-Package-2.pdf
2018 Job Fair Saturday, April 14, 2018 Fox Care Center
The 2018 Job Fair is for job seekers who seek to be employed immediately. To assist the residents of the Chenango, Delaware and Otsego area in this process, The Otsego County Chamber of Commerce, is pleased to host the 2018 Job Fair, Saturday, April 14, 2018 at the Fox Care Center, Oneonta, NY.
The theme of the 2018 Job Fair is –Laying A Foundation to Success – providing area residents with the keys to success:
•        Education – Training providers will promote training opportunities for individuals to gain the skills and knowledge to help them succeed in their careers.
•        Employment – Businesses will offer career information and local employment opportunities.
•        Enhancement – Agencies will promote their services that enhance lives (food, clothing, childcare, transportation, heat, home weatherization services & others)
The success of this effort is dependent on support from many partners.  As an event sponsor, your firm will have the opportunity for increased visibility within the local community while at the same time providing a benefit to your organizations recruitment efforts.
We appreciate your support for this and other past events and hope you will join us in sponsoring this year's Otsego County Chamber of Commerce 2018 Job Fair, Saturday, April 14, 2018 at the Fox Care Center. Attached please find Job Fair Sponsorship and registration forms.

[email protected]″>
189 Main St. Suite 500
Oneonta, NY  13820
Office: 607-267-4010
_______________________________________________
Enews mailing list
[email protected]