Dear Members,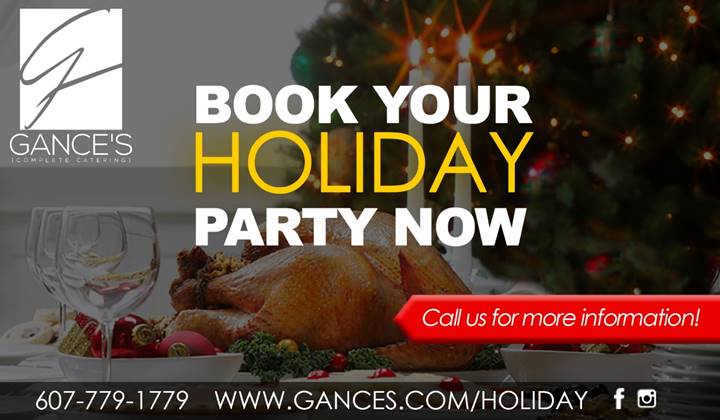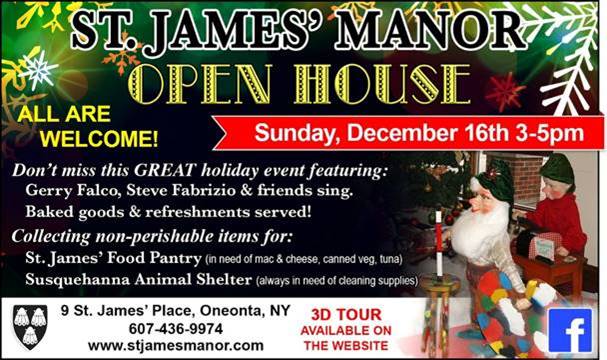 Friendly Reminder Holiday Celebration on Wednesday, December 12, 2018 hosted by NBT Bank and NBT Insurance in celebrating the success of Otsego County Businesses. Joining us with be the Young Professionals Network of The Otsego County Chamber who are collecting unwrapped toys for Toys for Tots! We look forward to celebrating with you the Holiday Season!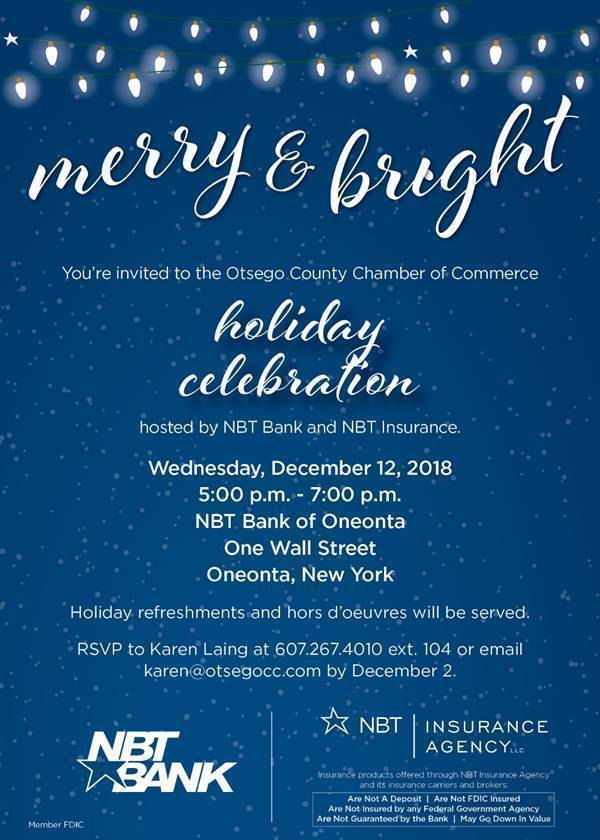 Theatrical Production of Charles Dickens' A Christmas Carol at The Farmers' Museum
Four live performances of Charles Dickens' classic – A Christmas Carol 
– Friday, December 14 • 7:00 p.m.
– Saturday, December 15 • 2:00 p.m. and 5:00 p.m.
– Sunday, December 16 • 3:00 p.m.
(COOPERSTOWN, N.Y.)— The Farmers' Museum in Cooperstown presents four live performances of Charles Dickens' beloved classic A Christmas Carol on December 14, 15, and 16. The play, adapted from the original text by Danielle and Michael Henrici, tells the story of Ebenezer Scrooge, a bitter old man who devoted his life to money and business until three ghosts show him the error of his ways. Michael Henrici directs and also stars as Scrooge. The production embodies the spirit of the season and is a perfect way to celebrate the holidays with family and friends.
Four performances will be presented on Friday, December 14 (7:00 p.m.), Saturday, December 15 (2:00 p.m. and 5:00 p.m.), and Sunday, December 16 (3:00 p.m.) in the Louis C. Jones Center at The Farmers' Museum. Order tickets online at FarmersMuseum.org or purchase your tickets at the door on the evening of the performance. Tickets are $15 adults (13-64); $13.50 seniors (65+) and museum members; $10 juniors (7-12); children 6 and under are free.  Concessions will be available. If you have questions about the performance, please call Michael Tamburrino at (607) 547-1453.
A Christmas Carol is generously sponsored by Matthew Sohns and family. The Farmers' Museum is located at 5775 Route 80 in Cooperstown, NY.  For more information, visit FarmersMuseum.org.
Emerald ash borer to be the topic of a presentation in Oneonta on Wednesday, December 12.
(ONEONTA) — The City of Oneonta and the Otsego County Conservation Association will be co-sponsoring a talk on the emerald ash borer on Wednesday, December 12 at 6:30pm. This free talk will take place at the Otsego County Chamber of Commerce, 189 Main Street, Suite 500.
An invasive insect from eastern Asia, the emerald ash borer (EAB) attacks and kills all species of ash trees. Since it was first found in the United States in 2002, EAB has been responsible for the death of millions of trees in the United States and Canada. Its presence in Otsego County was confirmed in 2014 in Unadilla.
"The emerald ash borer continues to expand into Otsego County," said Jeff O'Handley, OCCA's program director. "It's especially important for people in the southern and western parts of the county to be aware of this pest and the impact it can have."
The program features a presentation by Dan Snider, field projects manager for the Catskill Regional Invasive Species Partnership (CRISP). Snider will cover emerald ash borer biology, ash tree identification, and signs of emerald ash borer infestations. The program will also include a discussion of best management practices for infested areas, and how citizens can contribute to research programs to preserve ash trees in the landscape.
In 2017, the City of Oneonta received an Urban and Community Forestry Grant to develop and implement the Emerald Ash Borer Maintenance Program. As part of the plan, the City removed a number of ash high-risk ash trees from streets and parks, inoculated others with insecticide to protect against infestation, and conducted a number of outreach and education programs. Judy Pangman, Community Development Director for the City of Oneonta, will be on hand to discuss the progress of the program.
Ryan Mathews, Engineer I for the City of Oneonta, said the tree removals were done in the interest of safety.
"Once the emerald ash borer arrives, the trees die pretty quickly," Mathews said. "Falling limbs represent a risk to public health and could also result in significant property damage."
"At this point, it's not a matter of 'if,' it's a matter of when," O'Handley said, in reference to the emerald ash borer infestation. "We think it's important that people understand as much about the emerald ash borer as possible so that they can decide what to do on their own property."
The program is free and open to the public. For more information, contact OCCA at (607) 282-4087.
The program is made possible by an Urban Community Forestry grant received by the City of Oneonta. The Urban Community Forestry grants are funded through the State Environmental Protection Fund. They are part of New York's ongoing environmental initiatives to promote clean air, clean water, energy savings and habitat creation and to address invasive species, environmental justice and urban sprawl. UCF grants are awarded by the Department of Environmental Conservation.
Susquehanna SPCA features half price adoption special through December 31
COOPERSTOWN — Now through the end of the year, adoptions of all adult dogs and cats are 50 percent off at the Susquehanna SPCA.
"Our shelter has been operating at capacity for weeks," said Executive Director Stacie Haynes. "The sooner we find good homes for the animals currently in our care, the faster we can begin working to adopt out cats and dogs on the waiting list."
The Susquehanna SPCA is located just south of Cooperstown at 4841 State Highway 28. The shelter is open Tuesday through Saturday from noon to 5 p.m. and, once approved, most adoptions are same-day.
Among the animals currently seeking their forever homes are:
Ozzie: Ozzie is 2-3 years old and 80 pounds of pure love! He has lived with other dogs, doesn't seem to mind cats and would go great with older kids. Ozzie is a chunky, goofy boy who would make a great addition to a family!

Bernie: Bernie is a senior "bagel" (bassett hound/beagle) who was found as a stray. He gets along amazingly with all people, kids, dogs and cats. Due to his age, Bernie does have some health issues and will need some extra TLC!

Gingerbread: Gingerbread is 6 years old and will have been at the shelter for a year this February. He has a larger-than-life personality and is extremely silly, talkative, and affectionate. Gingerbread is in the early stages of kidney disease and will require some special care, but we promise he is worth it!

Liza Jane: Liza Jane is 3 years old and full of spunk. She is extremely friendly, talkative and loves getting her belly rubbed. If you are looking for a super affectionate cat, Liza Jane is your girl!
In operation since 1917, the Susquehanna SPCA is a 501 (c) 3 nonprofit organization committed to caring for homeless and abandoned animals and finding them loving, forever homes. For more information on available dogs and cats, visit www.sqspca.org.
Small Business Seminar Series:
Otsego County Chamber to host complimentary Branding Seminar for Small Business this Friday, December 14, 2018 8:30a.m.-10:30a.m. by chamber member Kim Bush, Owner of Evergreene Graphics
Part 1 is geared towards start-ups/new businesses and what to think about as you build a new brand. Why does your business need Branding? Effective branding helps your business stand out from competitors. Learn a six-step process for building a new brand.
Part 2 is for existing businesses and how you can evaluate your current branding for consistency. You'll get a five-step do-it-yourself brand review to help you evaluate your current branding and determine if there are areas to keep and/or make changes.  Seminar held at: Otsego County Chamber/Otsego Now Offices 189 Main Street- 5th floor Oneonta, NY
OPEN TO THE PUBLIC SIGN IN: 8:00 AM Time:  8:30 to 10:30 AM Cost: Complimentary to all Small Businesses        
THREE EASY WAYS TO REGISTER: ONLINE:  otsegocc.com CALL:  Member Services Administrator  607. 432-4500 Ext. 104 EMAIL:[email protected]
Kim Bush, Owner Evergreene Graphics
Certified NYS WBE & Federal EDWOSB
607-349-2170 | www.egraphics.us
Otsego County Chamber to host NYS Mandated Anti-Harassment Policies and Sexual Harassment Training Wednesday, December 19, 2018 8:30a.m.-10:00a.m.
Under Section 201-G, New York State mandates ALL employers (with as few as one employee) to adopt a sexual harassment prevention policy as well as to train ALL employees on sexual harassment prevention.  The policies were to be in place by October 9, 2018.  Initial trainings must be completed by October 9, 2019 and then annual thereafter.  Trainings for employees and managers/owners are not the same.  Managers and Owners have additional responsibilities and they must be trained on these. The policies and trainings have minimum requirements as outlined in Section 201-G. 
Please join chamber member, Maria N. Smirensky, SHRM-SCP, SPHR, MBA, President of M S Van Wie Advisors LLC, for the training for Managers and Owners.  This interactive training will go through the minimum requirement set out by this law as well as best practices to strengthen your company practices.  Ms. Smirensky will also identify areas that must be customized for your individual company.  You will leave this training with the confidence that you have been trained and you will be able to facilitate the required training for your employees. Seminar held at: Otsego County Chamber/Otsego Now Offices 189 Main Street- 5th floor Oneonta, NY
OPEN TO THE PUBLIC SIGN IN: 8:00 AM Time:  8:30 to 10:30 AM Cost:  $35 for Seminar with materials and certificate of completion       
THREE EASY WAYS TO REGISTER: ONLINE:  otsegocc.com CALL:  Member Services Administrator  607. 432-4500 Ext. 104 EMAIL:[email protected]
Attention! Chamber Member Looking for a Creative Hair Stylist and nail tech to rent Booth and to share a journey of business at Down Under Hair Design! Immediate Availability! Call Patty at (607) 432-7753.