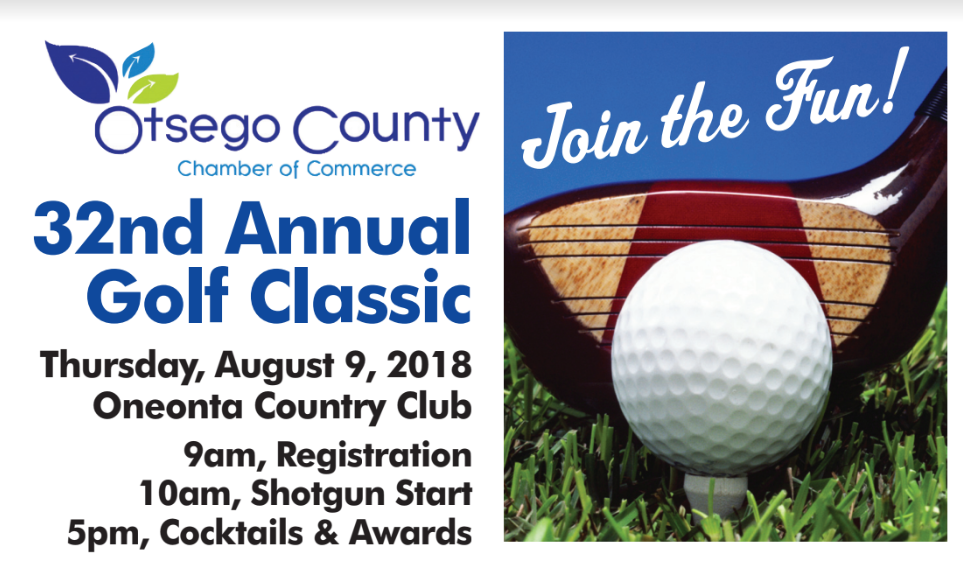 Greetings! The Otsego County Chamber of Commerce looks forward to seeing you this year at our upcoming golf tournament.
The Otsego County Chamber of Commerce is having its 32 Annual Golf Tournament. To be held on Thursday, August 9, 2018 at the Oneonta Country Club. Shot gun starts at 10:00a.m. Registration starts at 11:30am.
​
We invite you and your colleagues to join us as a sponsor in putting a team together for this event. By being a sponsor in this event you will be promoting your company to a group of people who are very loyal to its sponsors, as well as to the many area professionals who will be participating at the outing itself. 
Companies likes yours make available the resources that enrich our Business Community and for that we are forever grateful. We are anticipating a highly successful and well-attended outing. Please join the Chamber with our friends, neighbors and colleagues for a fun day with exciting golf course contests and prizes at the end. We are offering various levels of sponsorships. The Chamber Board of Directors thanks you in advance for your support and will work hard for your company in promoting and sharing resources among our membership. We look forward to seeing you there! 
Please see attached registration form.

18-OCCC-Golf-Flyer-003.pdf