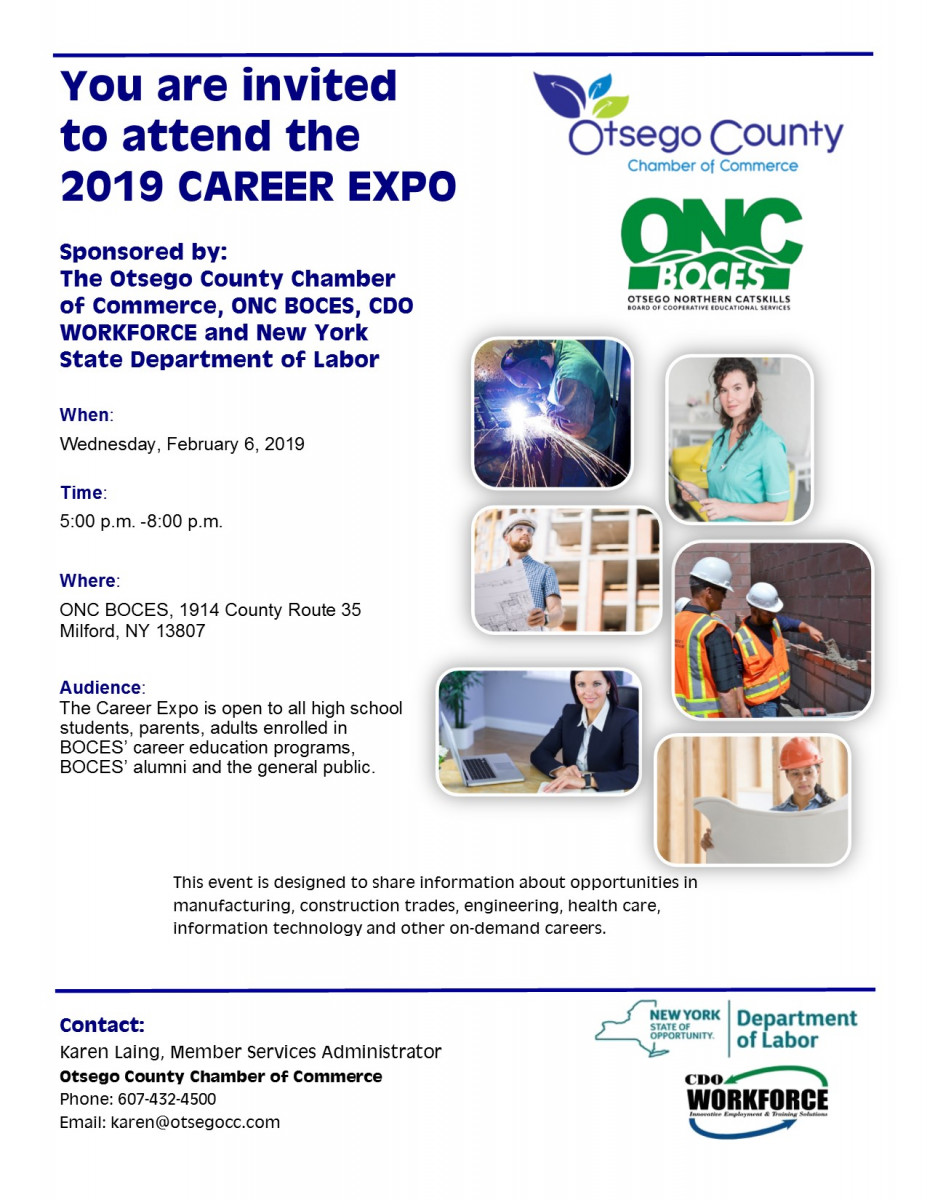 Dear Members,
The Otsego County Chamber believes that retaining young people in our region after they graduate, either for employment or post-secondary education, is critical to the economic vitality of our region.
The Otsego County Chamber will hold its 8th Annual Career Expo and Job Fair Open House on Wednesday, February 6, 2019 from 5:00p.m.-8:00p.m. at the ONC BOCES campus in Milford, 1914 County Route 35 Milford, NY 13807. The purpose of the Career Expo is to provide a well-rounded depiction of career opportunities in our region, the jobs that may be available to students when they graduate along with the education and skills needed to acquire those jobs. Business and college exhibitors will provide information to students about the various career opportunities at their company, the training and education needed for those careers, average salaries, and how students can acquire the skills, education, and experience needed to pursue these opportunities.
NEW this year there will also be a Job Fair and Open house which open to the public to attend and meet with area employers for current openings, learn about job training programs and we are proud to partner with ONC BOCES, CDO Workforce and NYS Department of Labor.
We invite you to be an Exhibitor at this Expo to showcase current job openings you are trying to fill and meet with students, parents and interested candidates.  Several colleges and educational program from our region are also invited to attend and share information on how their programs relate to the various career opportunities in our region. Colleges will be paired with business sectors at the Expo so that students can see a connection between the careers in our region and the educational opportunities also available in our region.
We hope that you will join us for this event. Registration is $30 per table includes light dinner and name listed on ads. Please complete the attached Business Exhibitor Registration form and return it with your registration payment by February 1, 2019. Set up will be between 3:30p.m.-4:45p.m.
If you have any questions about the Expo please contact myself or Karen Laing, Member Services Administrator, at (607) 432-4500 Ext. 104 or by emailing [email protected]. Thank you!

2019-Career-Expo-Exhibitor-Registration-002.doc