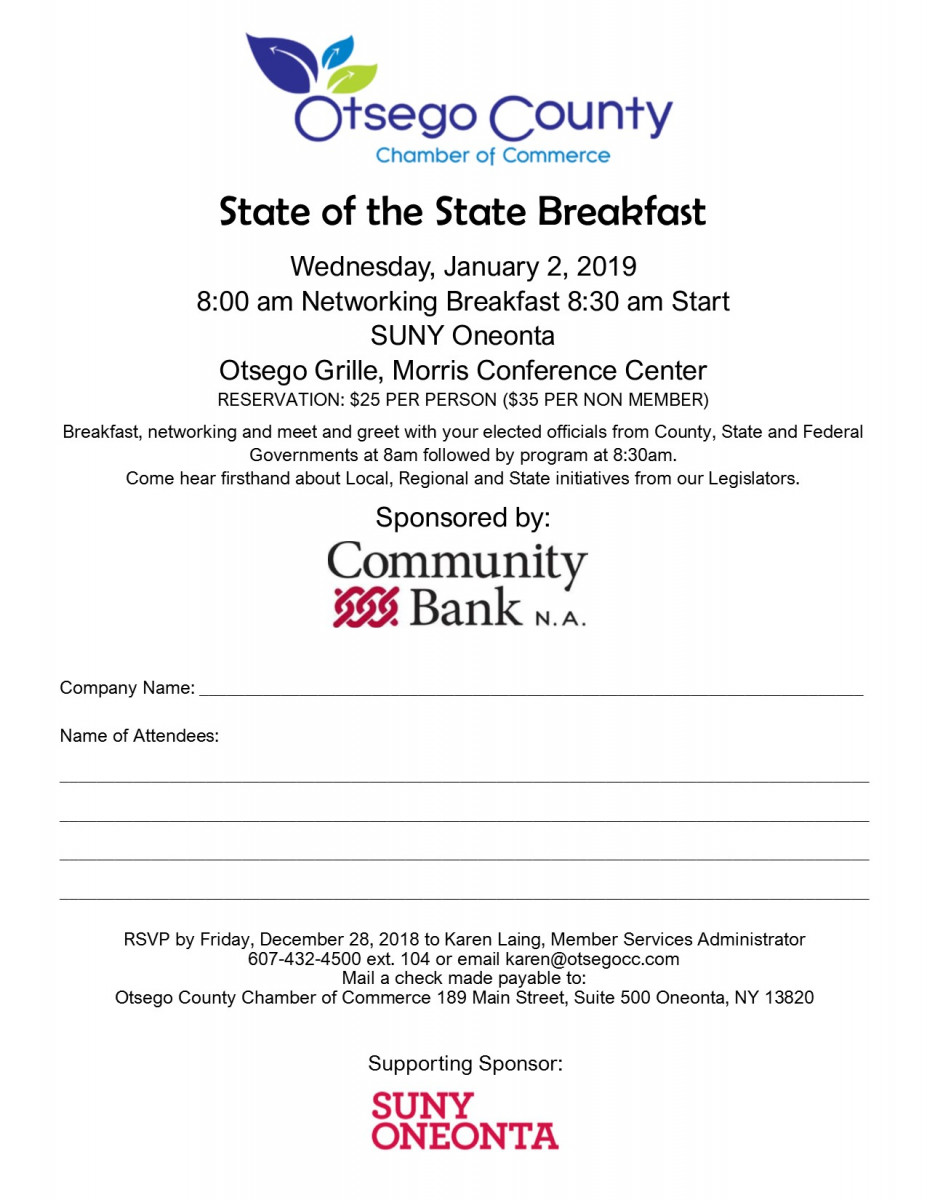 Season's Greetings!
The spirit of the season is infectious throughout Oneonta and Otsego County. From our annual City of  Oneonta traditional tree lighting and Holiday  parade, to the festive decorations illuminating our city sidewalks, from the traditional breakfast with Santa at The Otesaga, the Otsego County community is warming up to the holidays – despite the wintry chill. I am filled with a spirit of gratitude for all that we have made possible this year with a dedicated 25 member Chamber Board that are committed to the mission of the Chamber and to my great staff member, Member Services Administrator, Karen Laing. We find ourselves at the end of another year in which our members made meaningful advances in their journey towards greater business, commercial and professional fulfillment. Our business community continues to make us proud through the high level of engagement with regard to civic, community and global issues despite the hard challenges we are working through with recruiting to add to our  growing Workforce Development needs to addressing our energy needs in the county to sustain, attract and retain business. We have put in place strong working committees made up of the talent of our region to work collectively to address Workforce Development and Energy issues and overcome them to promote economic growth for our region. If there are members that would like to be part of this work please do let me know as all are welcomed to assist as we move this region forward.
As the Chamber, we had the honor and the pleasure to host Senator James Seward as our keynote speaker at the Chamber's Inaugural Mohawk Valley Workforce Development Summit this past Fall. We thank Senator Seward for his ongoing commitment to this region in advancing the business community's needs. We thank City of Oneonta Mayor Gary Herzig, the honorable members of Oneonta City Council and city officials for their continued support for the economic development of our region through their work with the Otsego County Chamber of Commerce.
We are also proud and thank Jody Zakrevsky, CEO of Otsego Now for his contributions to our businesses in Otsego County. Jody Zakrevsky has brought together a one stop economic development team which includes The NYS Small Business Development Center, Otsego County Chamber of Commerce, followed by Southern Tier 8 – the regional planning and development agency for our eight-county region and CADE (the Center for Agriculture, Development and Entrepreneurialism).  Together we provide a comprehensive package of marketing, business plan writing, training and education services, and financing for all businesses.  Otsego Now hired their first Director of Finance and Administration – Meaghan Marino and Otsego Now attracted a manufacturing company from NYC – TENTRR – the first new manufacturing company to come in years.  Though small, it shows we can attract businesses from downstate.  Otsego Now provided tax incentives for Corning who have begun an $11 million facilities upgrade and they are working with a solar company which will install a solar array at Corning.  Custom Electronics was awarded a $750,000 grant through Otsego Now's efforts to expand their product line and add another 50 people, bring their total employment up to 175.  Otsego Now continues to work with Ruby Lakes Glass and Andela Products toward a new industrial park in Richfield Springs at an estimated cost of $4.4 million.  They secured a $950,000 ESD grant toward this, and we are working on another $635,000 in additional grant financing for them.  Otsego Now provided some $72 million in bond financing for Bassett Hospital and the Templeton Foundation.  And, for the first time in five years, the County Board of Representative appropriated funds for Otsego Now to assist with general operating support for 2019.  And while 2018 was a good year, we are hopeful that 2019 will be even better!
As you can see, there are so many reasons to be proud and thankful in this special season! I have no doubt, as we transition into a new year that we are further along the road towards attaining our vision of being at the forefront of service to our member businesses and our communities across Otsego County. Attached please find our Chamber newsletter called "Otsego Smart Growth". We also look forward to seeing our members at our annual State of the State Breakfast on January 2 at SUNY Oneonta sponsored by Community Bank. Details are attached to register for this informative signature chamber event. Wishing all of you a very Happy & Healthy Holiday Season!
Warm Regards,
Barbara Ann Heegan
President/CEO

18-OCCC-Newsletter-Winter-FINAL-VERS-004.pdf