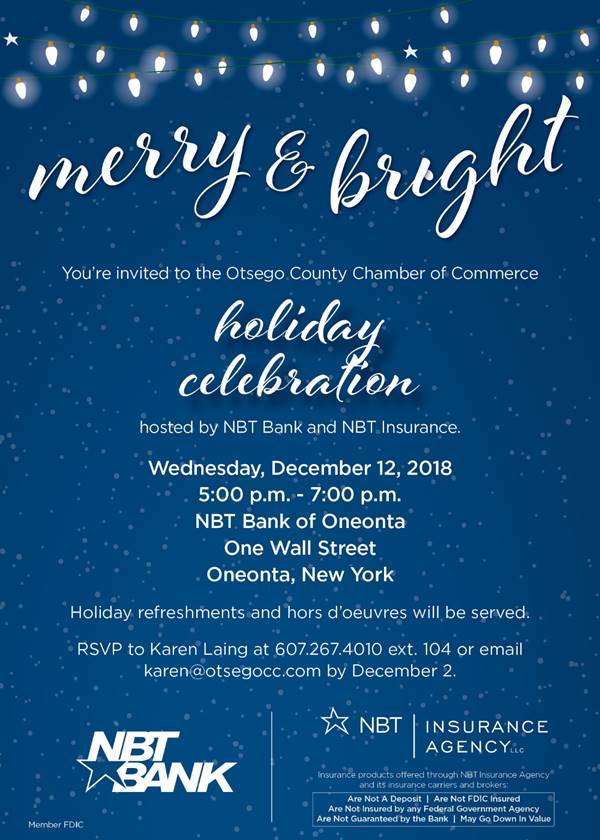 Dear Members,
We invite you to our upcoming Holiday Celebration on Wednesday December 12, 2018 hosted by NBT Bank and NBT Insurance in celebrating the success of Otsego County Businesses. See attached invite.
Otsego County Chamber to host NYS Mandated Anti-Harassment Policies and Sexual Harassment Training Wednesday, December 19, 2018 8:30a.m.-10:00a.m.
Under Section 201-G, New York State mandates ALL employers (with as few as one employee) to adopt a sexual harassment prevention policy as well as to train ALL employees on sexual harassment prevention.  The policies were to be in place by October 9, 2018.  Initial trainings must be completed by October 9, 2019 and then annual thereafter.  Trainings for employees and managers/owners are not the same.  Managers and Owners have additional responsibilities and they must be trained on these. The policies and trainings have minimum requirements as outlined in Section 201-G. 
Please join chamber member, Maria N. Smirensky, SHRM-SCP, SPHR, MBA, President of M S Van Wie Advisors LLC, for the training for Managers and Owners.  This interactive training will go through the minimum requirement set out by this law as well as best practices to strengthen your company practices.  Ms. Smirensky will also identify areas that must be customized for your individual company.  You will leave this training with the confidence that you have been trained and you will be able to facilitate the required training for your employees. Seminar held at: Otsego County Chamber/Otsego Now Offices 189 Main Street- 5th floor Oneonta, NY
OPEN TO THE PUBLIC SIGN IN: 8:00 AM Time:  8:30 to 10:30 AM Cost:  $35 for Seminar with materials and certificate of completion       
THREE EASY WAYS TO REGISTER: ONLINE:  otsegocc.com CALL:  Member Services Administrator  607. 432-4500 Ext. 104 EMAIL:[email protected]