Dear Members,
The Otsego County Chamber of Commerce will be hosting a Ribbon Cutting Ceremony this Tuesday, November 26, 2019 at 10:30a.m. for Chip Klugo & Klugo Properties at their newly renovated Luxury apartments for the Stevens Project and Main Street commercial space with business Island Premium Printing. Tours will be available following the Ribbon Cutting Ceremony which will take place in front of the building. Details listed below and attached on the apartments. All are welcomed.
Luxury Apartments
Historic Downtown Oneonta
151 Main Street
Oneonta, New York 13820
Each Totally Renovated
Apartment Features:
• Rear Access
• Basement Storage
• Heating/Central Air
• Cable & Internet
Availability
• Prime Location in
Oneonta's Historic
Downtown District
• High Traffic/Great
Visibility on Main
Street
• Parking for 50+ Cars
in Rear Lot
• Elevator Available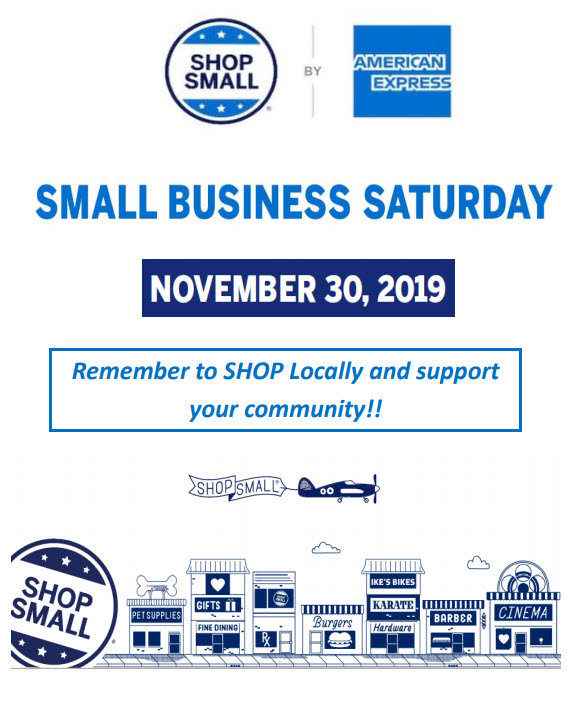 Small Business Saturday is November 30, 2019-Remember to shop locally and support your community!
Remembering Holidays Past at Bresee's
Each holiday season for decades the windows at Bresee's Oneonta Department Store displayed movable figures in the windows, each figure hard at work preparing for the holidays. Six of those figures – four elves and two deer –   are back on Main Street for a limited time! Look for them in the Main Street and Dietz Street windows of the Oneonta History Center, 183 Main Street. To extend their working lives – they are nearly eighty years old – the figures will be activated for only a short time each hour the History Center is open through December 8. The holiday figures are back on Main Street thanks to the efforts of John Pontius, president of the Board of Trustees of the Greater Oneonta Historical Society, and the generosity of staff at St. James Manor & Retirement Community, the owner of the figures.  
Along with the Bresee's figures, a model train layout returns to the Main Street window of the History Center. Inside, visitors will find another train layout as well as more nostalgic items from Bresee's – Santa in his chair, with his mail box nearby for messages sent to the North Pole. On December 9 the figures will be replaced by entries to Destination Oneonta's annual Gingerbread Jubilee.
The Otsego County Chamber is working on our next quarterly newsletter "Smart Growth Otsego" that is e-mailed to our contacts of 1,700 business leaders and direct mail to 700 business owners and CEO's.  This newsletter is an opportunity to showcase members' new products or services, new or promoted employees, and any honors or recognition your business has received. E-mail press releases to info@otsegocc.com Deadline: Friday November 29, 2019  We also have advertising opportunities.