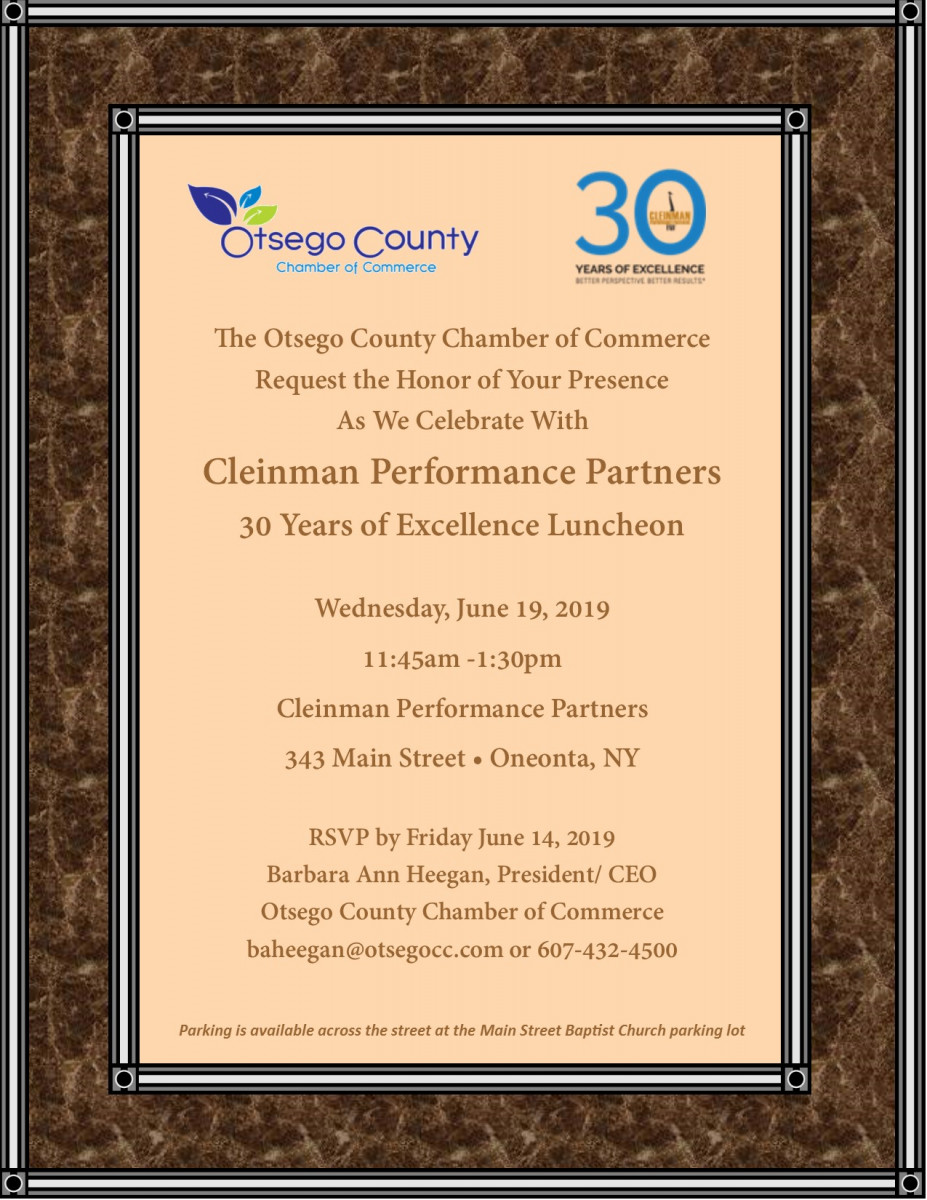 Dear Members,
Join us on Friday, June 7, 8:30a.m.-10:00a.m. Bagels and Benefits Otsego County Chamber Membership Orientation at Chamber offices 189 Main Street 5th floor
Your Chamber of Commerce offers quarterly Member Orientations to become familiar with all aspects of the Chamber and meet new members. Whether you're a new or existing member, these quarterly Member Orientations are a great way to connect with your Chamber and meet a local sponsoring organization each month. Chamber member and Board Member Anthony Wahl is our sponsoring organization, owner of Wahl to Wahl Auto who will discuss "Strategies to become a successful leader in your organization" and is geared toward our Young Professional Network members.

Through this orientation, you will:
Get an overview of the Chamber and member benefits.

Learn how to best get engaged and take advantage of your membership.

Learn about Chamber programs, events and committees.

Learn about the business resources the Chamber and its partners offer. 

Get an overview of how the Chamber advocates for business interests at the local, state and federal level.

Have the opportunity to network with other business professionals and new members.

Meet seasoned Chamber volunteers to learn how they have gotten involved.

Meet the entire Chamber staff and Member Services Committee Members to learn how we can impact your business.

The orientations are always FREE, but do require an RSVP. Contact [email protected] to RSVP by this Wednesday June 5.
Cleinman Performance Partners 30 Years of Excellence Luncheon
The Otsego County Chamber of Commerce request the honor of your presence as we celebrate with chamber member, "Cleinman Performance Partners 30 Years of Excellence Luncheon" on Wednesday, June 19, 2019 from 11:45a.m.-1:30p.m. located at their offices which is 343 Main Street, Oneonta. Please RSVP to [email protected] by Friday, June 14, 2019. See attached your formal Invite. Parking is available across the street at the Main Street Baptist Church parking lot.
See Master Artisans During Blacksmithing Weekend at The Farmers' Museum
Blacksmithing Weekend
Saturday and Sunday, June 8–9, 10:00 am–5:00 pm
The Farmers' Museum, Cooperstown, NY
COOPERSTOWN, N.Y. — Turn up the heat during Blacksmithing Weekend at The Farmers' Museum in Cooperstown, Saturday and Sunday, June 8–9 from 10:00 a.m.–5:00 p.m. Hear the bellows blow and see hot iron worked by hammer in the 1827 Field Blacksmith Shop. Watch our team of blacksmiths demonstrate traditional tool and hardware making. A total of five blacksmiths will be on-site operating three additional portable forges at different locations on the museum grounds–each featuring different artisanal skill levels, showing the versatility of the blacksmith's craft. Learn the tips and secrets of the trade as well as the cultural and historical significance of a 19th-century blacksmith from these knowledgeable professionals.
Each weekend, life in 1845 continues throughout the museum's country village and farmstead. Don't miss the Empire State Carousel, the museum you can ride, and the Children's Barnyard with its sheep, goats, and other animals. Kids can also visit our new Grow Patch play-and-learn area.
Our new exhibition BREW: New York's Craft Beer Revival is now on view. Take part in related programming including hop and brewing tours (Fridays, Saturdays, and Sundays from 11:00 a.m.–1:00 p.m.) and beer tasting at Bump Tavern during Blacksmithing Weekend features Cooperstown Brewing Company (Saturday, June 8 from noon–2:00 p.m.).
Food will be available in the museum's Crossroads Café serving-up hamburgers and veggie burgers, mac and cheese, and Philly cheesesteaks. Grab a side dish of macaroni salad or coleslaw or order a slushee to cool yourself down.
Blacksmithing Weekend is included with regular museum admission. Adults (13-64): $12.00; seniors (65+): $10.50; youth (7-12): $6.00; children (6 and under) are free. Museum members are always admitted free, as are active-duty and retired career military. The Farmers' Museum is located at 5775 Route 80 in Cooperstown, just north of the village. Visit FarmersMuseum.org for more information.
MVREDC On the Road: Attend a CFA Info Session!
Want to get information on the consolidated funding application in a smaller setting?
This year the MVREDC's Project Development Committee Members are hosting CFA Info sessions in each of our six counties! Our Project Development Committee Members are great resources for helping fill out the CFA application. Find one near you to attend:
June 6th 2019 Fulton County
https://www.eventbrite.com/e/fulton-county-center-for-regional-growth-hosting-cfa-info-session-tickets-61104991675
June 12th 2019 Otsego County
https://www.eventbrite.com/e/otsego-now-hosting-cfa-info-session-tickets-61106071906
June 20th 2019 Montgomery County
https://www.eventbrite.com/e/montgomery-county-business-development-center-hosting-cfa-info-session-tickets-61106298584