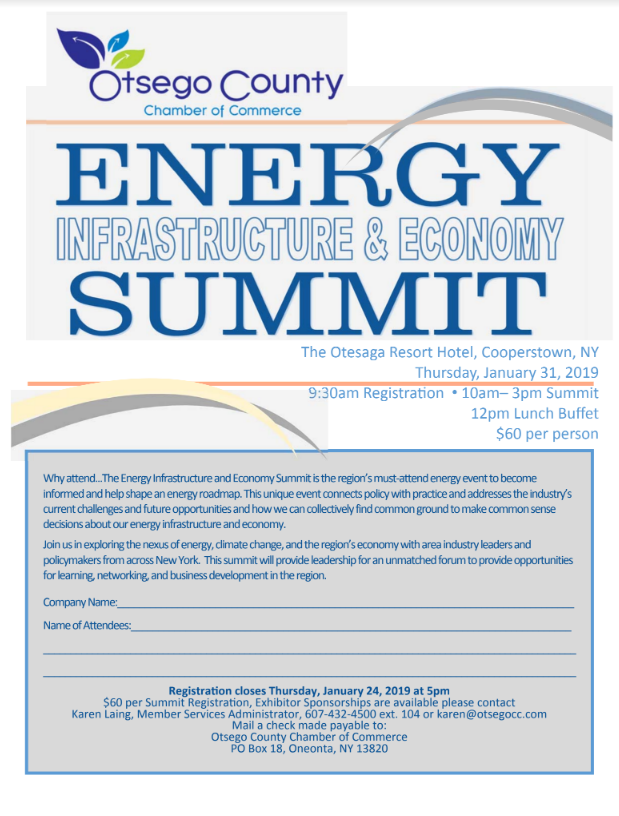 Dear Members,
The Otsego County Chamber of Commerce supports diverse businesses, many of which have been the economic engines of our county for decades. To maintain that competitiveness, boost our economy and create jobs, Otsego County must chart an energy roadmap for our immediate energy needs and that of the future. The Otsego County Chamber of Commerce will host an inaugural Energy Infrastructure & Economy Summit on Thursday, January 31, 2019 from 10:00 a.m. to 3:00 p.m. at The Otesaga Resort Hotel in Cooperstown, NY.
We recognize that the creation and execution of a county-wide energy infrastructure plan will require communication, consensus building and teamwork, involving all community stakeholders. By coming together, we will shape strategies for an energy roadmap that will create economic advantage, mitigate climate change and improve energy performance.
Details are attached to register for this event along with sponsorship and exhibitor information.  We are also actively accepting proposals for presenters from our members that wish to present at the Summit that have factual information to share on the different forms of energy. Presentations will be 15 minutes minimum to 45 minutes maximum. We encourage opportunities to be interactive with the audience to allow Q & A. If interested in presenting please submit a one page proposal directly to me no later than Friday, January 11, 2019 to [email protected]. Proposal should include name of presentation and talking points to be covered in presentation, time needed to present, equipment or materials need for presentation, and reason for wishing to participate.
Suggested Energy topics include but not limited to:
·        Energy Innovative financing solutions (case studies and resources)
·        Measuring and monitoring building performance outcomes
·        Deep energy retrofits to zero energy
·        Design and construction best practices
·        All forms of renewable energy Hydro Power, Wind, Solar, Biomass, GeoThermal
·        Energy Efficiency
·        Natural Gas Accessibility
·        Energy codes
·        Net-zero energy (the business case and value proposition for owners/developers; case studies; carbon impacts)
·        Communicating your green building/sustainability success story
·        Emerging technologies
·        Resiliency and climate adaption in buildings
Thank you for your time in reviewing this information.