Dear Members,
A friendly reminder we have Career Spark Day this Thursday at Laurens Central School. Please confirm your spot today if you would like to participate. We are also looking for donations for about 200 students of reusable bags and any giveaways to fill the bags for high school students to SPARK their interest in your company. We would be happy to pick up items for donation. Thank you for your consideration of this request as it is greatly appreciated for the students.
The Otsego County Chamber of Commerce has TWO special career events coming up as an opportunity for businesses to find a qualified and skilled workforce for full time work and summer employment opportunities.
To assist with your job market needs we are partnering with the Laurens Central School District to have a Career Spark Day for 9-12 graders to illustrate to them the important skills needed for the current job market and the opportunities that exist in our region. Many of these students are also looking for summer job opportunities and internship opportunities. There are also teachers that are looking for summer employment that we have invited to also attend.
The event will take place on Thursday, March 12, 2020 from 9-11:30am and again from 12:30-2:00pm, at Laurens Central School, 55 Main Street, Laurens, NY 13796.  The following schools will also be participating:  Laurens, Milford, Morris and Edmeston.  Lunch will be provided. Set up and registration will begin at 8:15am.
We are looking for a panel of presenters to start off each time period focusing on the types of employment opportunities available in our area, employer expectations, scheduling, job training, potential internships and so forth.  Break-out sessions will follow the panel discussion allowing students time to meet potential employers, learn how to properly complete applications, how to dress for an interview, resume building and so forth.   
We will also have a Job Fair Expo open to the public on Tuesday, March 31, 2020 at the Quality Inn of Oneonta from 1:00p.m.-4:00p.m. This is for all Job Opportunities:  part time, full time, special events. Please include any internships and volunteering opportunities as well.  This is a great way to reach out to the community and let potential employees know what you are looking for. 
The success of these events is dependent on support from our many businesses participating in these opportunities where we provide your company with increased visibility and at the same time providing benefit to your organization's recruitment efforts.  Please see attached details for registration. For questions and more information please contact Barbara Ann Heegan @info@otsegocc.com
Thank you for your support of these highly visible and well publicized events.  We believe this is a great value to be able to reach such a wide spectrum of job seekers and have an impact on young potential employees in our region at the same time. 
If you are unable to participate in both events but are able to join us for one please contact us! Please see attached registration form.   
 On March 21, 2020, the NYS SHIELD (Stop Hacks and Improve Electronic Data Security) Act will take effect and will impact all businesses that have data on any New York State resident. 
The SHIELD act will require that all New York businesses:
Set up a "data security program" to monitor and improve cybersecurity. 
Implement "reasonable safeguards" to ensure that private information is stored and erased safely.
Notify their customers of data breaches
With fines increasing from $100,000 to $250,000 per incident, no business can afford not to take the steps to keep information safe.
If you are not sure if your business is sufficiently protected, you can schedule a consultation with Directive by calling 607-433-2200. Go to https://www.directive.com/nys-shield-act to learn more.
COVID-19 Coronavirus
As valued members, I am personally reaching out to you regarding the current situation of the COVID-19 Coronavirus given that it has hit New York State. We know it's an unsettling time for everyone and our hearts go out to those impacted. Every day brings new developments as it continues to spread globally, impacting commerce and communities. We are monitoring the situation and want to provide useful tools and resources to you about how to be prepared and how to support your employees during this time.
The Otsego County Chamber of Commerce has compiled resources for our members on Coronavirus pandemic response that we have received from NYS Governor Andrew M. Cuomo administration along from Otsego County Public Health and the Bassett Healthcare Network. These resources will be updated as new information becomes available. During times like these, we know community stakeholders look for resources to share within each of your organizations. We will continue to update you with additional resources as we receive information.
We have listed three website links below with very helpful information:
Please let us know how the Otsego County Chamber can be helpful to your organization. We'd also love to learn about the actions your organization is taking. We will compile best practices to share with the membership.
If I can do anything to be of assistance, please let me know.
All my best,
Tickets for Hall of Fame Classic on Sale March 16
"Ut enim ad minim veniam, quis nostrud exercitation ullamco laboris nisi ut aliquip ex ea commodo consequat. Excepteur sint occaecat cupidatat non proident, sunt in culpa qui officia deserunt mollit anim id est laborum".
Porta tellus aliquam ligula sollicitudin
Tincidunt habitant egestas erat lectus congue nisl dapibus nostra bibendum. In est in vitae dictumst varius lorem congue rutrum eget primis augue. At orci cubilia duis orci consequat libero malesuada mi. Porta facilisis dui, justo laoreet penatibus. Eros penatibus justo, tempor ligula vestibulum vestibulum lacus mauris himenaeos quisque proin.
Tincidunt wisi euismod iaculis nunc vita
Habitasse justo, sed justo. Senectus morbi, fermentum magna id tortor. Lacinia sociis morbi erat ultricies dictumst condimentum dictum nascetur? Vitae litora erat penatibus nam lorem. Euismod tempus, mollis leo tempus? Semper est cursus viverra senectus lectus feugiat id! Odio porta nibh dictumst nulla taciti lacus nam est praesent.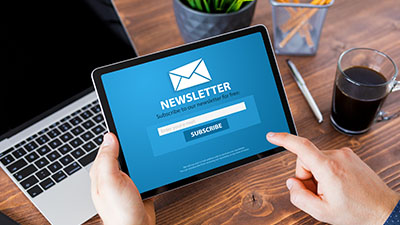 Subscribers to this email list will receive a weekly update email that contains news and announcements from the Otsego County Chamber of Commerce as well as news and messages from our members. This is our main mechanism for communications with our members and our community.
Each week, we compile a list of news and announcements (from our office and from our members) that is emailed to our full membership list and to other members of the community.
Click Here For Calendar of Events